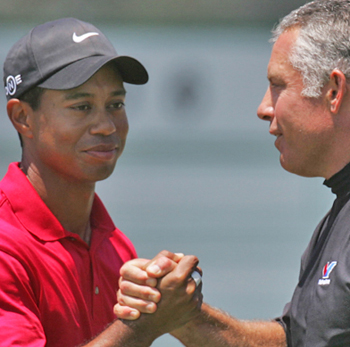 Tiger leaves another piece of best days behind by firing Williams
Gone are his wife, his longtime coach, his old golf swing, most of his reputation, much of his aura, his former management company and lost a good many of the corporate ties that made him the richest athlete ever.
Looks like Tiger Woods decided to get ahead of the curve on this one, taking matters into his own hands Wednesday and firing his caddie of 12 years, Steve Williams.
No explanation was given. They teamed for a staggering 72 worldwide tournament victories, including 13 major championships.
"I want to express my deepest gratitude to Stevie for all his help, but I think it's time for a change," Woods said on his website. "Stevie is an outstanding caddie and a friend and has been instrumental in many of my accomplishments. I wish him great success in the future."
Wow, about as antiseptic and dispassionate as a corporate sacking, eh?
Williams, who last week at the British Open was the subject of rumors to this end and denied them across the board, was best man in Woods' wedding and considered one of his intimate friends. Now he's been summarily handed his walking papers and is none too pleased about it.
There had been strains in the relationship over the years, as when Williams popped off about his dislike for Phil Mickelson, or when Woods' became embroiled in the sex scandal of 18 months ago and everybody assumed Williams was privy to the inside dirt. He insisted he wasn't.
Only the embattled Woods at this point could manage to make Williams, a veritable sergeant-at-arms on the course who made few friends with occasionally bullying behavior, seem like a sympathetic figure. But he has done just that.
Williams responded to the booting with a terse statement on his website: "After 13 years of loyal service needless to say this came as a shock. Given the circumstances of the past 18 months working through Tiger's scandal, a new coach and with it a major swing change and Tiger battling through injuries I am very disappointed to end our very successful partnership at this time."
For the past few starts, Williams has been working for Australian Adam Scott, one of the nicest players on the PGA Tour. He's been wearing a Titleist hat -- the manufacturer tied to Scott, not Woods -- though it's unclear exactly why the New Zealand looper was sacked. Knowing Woods, that will remain the case.
At the British Open last week, an Australian outlet noted Williams was already on the way out, though the caddie denied it. He confirmed to the Associated Press on Wednesday afternoon that he was sacked after the AT&T National event that Woods hosts, two weeks before the British.
Williams didn't confirm the report because he didn't want the news to engulf the tournament, and his player, alive. He immediately latched on with Scott.
"I have had the opportunity to work of late for Australian Adam Scott and will now caddie for him on a permanent basis," he said. "Having started my caddying career with Australian great Peter Thomson and working for Greg Norman in the '80s I am excited about the future working for another Australian," Williams said on his website.
It was long assumed, but never confirmed, that Williams was paid by Woods on a salaried basis, with performance bonuses added for wins and majors. Thus, Williams is presumed to have been hauling in a large chunk of change even as Woods has been sidelined by surgeries, scandals and other medical issues.
Elin Nordegren and Steve Williams' wife, Kirsty, were close friends and often inseparable on the golf course, which put an additional strain on Williams' own personal life when the parade of women stepped forward to claim they had slept with the former world No. 1.
No replacement has been named for Woods, and for once, it's no safe assumption to assume that any PGA Tour caddie would instantly lop off a leg for the chance to work for him. Woods this week skidded to 20th in the world ranking and it remains unclear when he will next play, though the Bridgestone and PGA Championship are only two weeks down the road.
Woods has missed the past two majors and continues to make monumental changes in what was once a lethal routine and support crew. After swing coach Hank Haney left him, Woods even ditched the Scotty Cameron putter he used to effectively.
As did Williams, that wand helped Woods win 13 major titles.