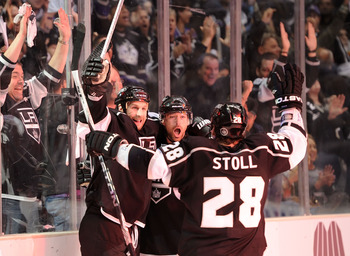 Clarkson, Zajac embrace DeBoer hiring
Nobody ever questioned Pete DeBoer's coaching pedigree.
Now, the Devils are giving him a second – and possibly final – chance to show he can translate his junior hockey success to the NHL.
"I haven't played for him since junior, but I'm just a big fan of the way he did things," said Devils right wing David Clarkson, who was a member of the DeBoer-coached Kitchener Rangers who won the Memorial Cup in 2003. "You know he believes in the team. When he gives a pregame speech, you always knew what was going to happen in the game. I think this is a great move in the right direction for the New Jersey Devils."
DeBoer was a hot commodity when the Panthers hired him on June 13, 2008, after 13 successful seasons in the Ontario Hockey League. In 2007, he became one of six coaches in league history to reach 500 wins.
But it's one thing to mold teenagers, another thing working with hardened professionals, even with a reputation for being a players' coach.
DeBoer drew good reviews for his work with the under-talented Panthers, but the NHL is a results-driven business and three seasons out of the playoffs with a combined 103-107-36 mark meant DeBoer was out of a job with one year left on his contract.
The Panthers played hard but they were 28th in the league in goals scored the past two seasons.
Still, Lou Lamoriello was watching. In announcing his latest coaching hire, the Devils general manager said he liked what he saw from DeBoer's junior career and with the Panthers.
Most importantly, Lamoriello said the Devils would benefit from the three years of on-the-job-training DeBoer received in Florida. DeBoer himself mentioned several times the Panthers had been a learning experience and he was a "much better" coach as a result.
He said he expects to continue the Devils' defensive system. But he made it clear he also wants to push the attack.
Later, away from the podium, Lamoriello smiled and gave a sheepish confirmation he believed DeBoer would be more successful with the Devils because there's more talent on this roster than there was in Florida.
At age 43, DeBoer has upgraded from forwards Stephen Weiss and Mike Santorelli to Ilya Kovalchuk and Zach Parise, and from Tomas Vokoun to Martin Brodeur in net.
"He's a coach that's going to grab your attention and he's going to make you work hard and that's what you want from a coach," said Devils center Travis Zajac, who was a member of the Team Canada squad in the 2010 World Championships that DeBoer served as an assistant coach.
"I think he's one of those guys that likes the game played hard," Clarkson agreed. "At the same time, he's a players' coach. If you have a question, you can go to him and he'll explain to you what he wants you to do."
It was a successful formula in the OHL. DeBoer must show he can make it work in the NHL